Canceled 3/13/18 10:00 AM
Winter Weather Advisory issued March 13 at 3:27AM EDT until March 13 at 10:00AM EDT by NWS
...NORTHWEST FLOW SNOWFALL TO CONTINUE ACROSS THE WESTERN NORTH CAROLINA MOUNTAINS EARLY THIS MORNING ALONG WITH GUSTY WINDS AND BLACK ICE...
...ANOTHER ROUND OF NORTHWEST FLOW SNOWFALL EXPECTED ACROSS THE SMOKY MOUNTAINS TONIGHT...
.Snow showers will continue across the Tennessee border counties of the North Carolina mountains. The combination of fresh snow, wet roads from earlier rain and snow, and temperatures falling through the 20s will produce some areas of black ice as well.
Gusty northwest winds will continue as well. The heaviest snow accumulations and strongest winds will affect locations along the higher ridge tops. Another round of snow can be expected again tonight along the Tennessee border counties, with the highest totals expected across the Smoky Mountains.
...WINTER WEATHER ADVISORY REMAINS IN EFFECT UNTIL 10 AM EDT THIS MORNING...

* WHAT...
Snow and black ice. Additional snow accumulations of up to one half inch are expected. Areas of black ice will form.
Northwest winds of 15 to 25 mph will gust as high as 35 to 45 mph at times.

* WHERE...
Avery, Madison, Yancey and Mitchell Counties.

* WHEN...
Until 10 AM EDT this morning.

* ADDITIONAL DETAILS...
Plan on slippery road conditions, including during the morning commute. Be prepared for reduced visibilities at times.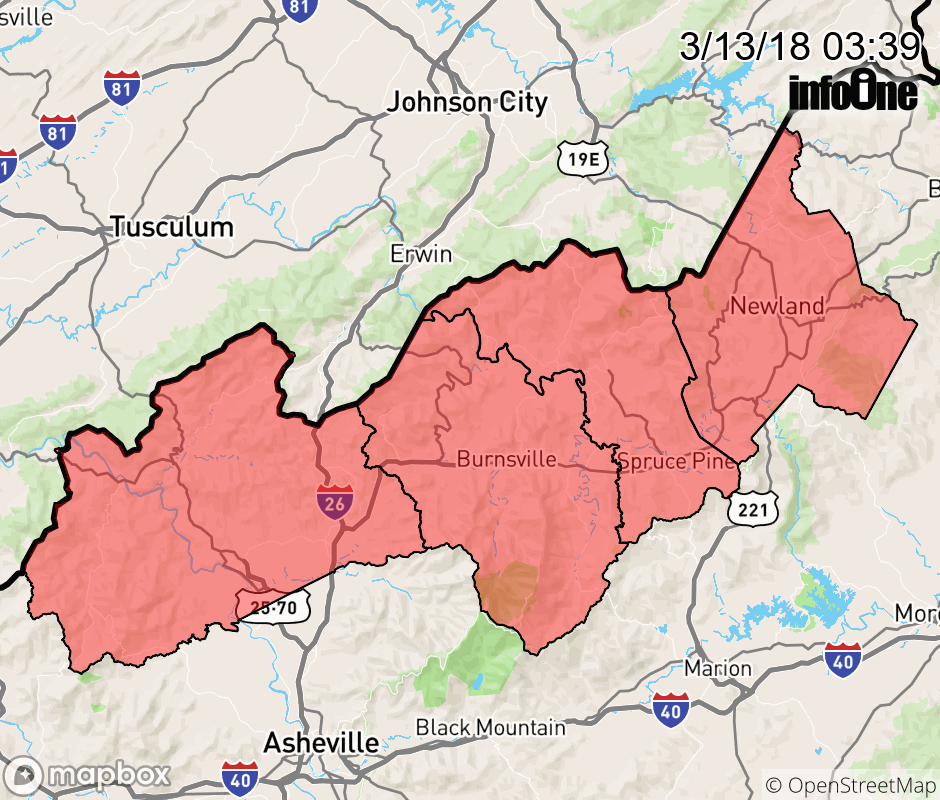 Updated: Tue 3/13/18 3:39 AM EDT

Get these alerts on your phone!